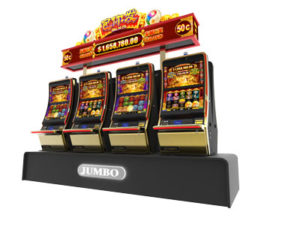 The latest product from Taiwanese gaming supplier Jumbo is Bāo Nǐ Fā Jackpot, which builds on the previous features of the company's wildly popular Yi Lu FaTM Jackpot.
Bāo Nǐ Fā adds a standalone "Fortune" jackpot on top of the three progressive linked jackpots. Players also have a chance to win up to four jackpots at the same time.
Jumbo has launched three hit games linked to Bāo Nǐ FāTM, including "Power Dragon", "Power Mask" and "Power Lion", in which the unique "Power Up" feature gives players the chance to multiply their winnings.
Bāo Nǐ Fā will be featured at the Asia Pioneer Entertainment (APE) booth at MGS.