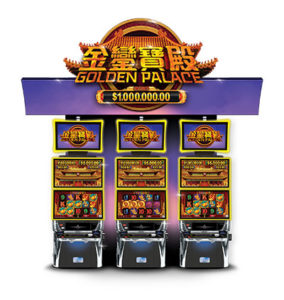 Golden Palace has a glorious traditional Chinese royal palace theme and launches with two base games with different features: "Imperial Princess" features symbols revealed during free games, while "Imperial Prince" features stacked reels in the base game and gigantic symbols during free games.
Golden Palace is a multiway game and features medium to high volatility with four progressive jackpot levels – the second level is an SAP jackpot – with two different  feature activations and a high frequency trigger.
With an incentivized cost to cover from 8 to 88 credits and scalable credit-based prizes, Golden Palace is available on the stunning Crystal Dual 27 cabinet.