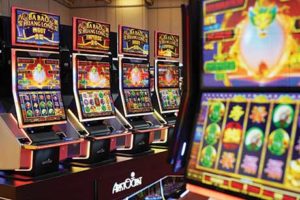 One of the most popular products at Aristocrat's stand this week has been "Ba Bao 2 Huang Long", the first game since "Good Fortune" to be 100% built for the Macau market.
"'Good Fortune' was our most successful link over the last three or four years in Macau and Ba Bao is taking some of the key elements from 'Good Fortune' but adding a lot more innovation to take the game to the next level," says Lloyd Robson, Aristocrat Sales & Business Development Director – Asia Pacific.
One of the key aspects  of "Good Fortune" was its standalone progressive jackpot, a feature that remains in Ba Bao while adding another standalone progressive jackpot, so "there's is always going to be a reason for a player to be on that specific machine," Robson says.
"Ba Bao 2 Huang Long" also includes more visual cues for the player to make a decision to jump onto that machine. The slot game can be equally oriented for mass-market gaming or VIP thanks to its mechanics.
The Chinese culture aesthetic of Ba Bao has been developed with the aim of occupying large zones on casino floors.
"We're working with operators around town and around the region to create Ba Bao Worlds, which is a real zoning of this game," Robson explains.