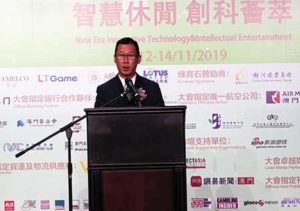 The head of Macau's gaming watchdog, Paulo Martins Chan, says the DICJ will continue to push for diversification of the local gaming industry in order to ensure a balanced market that appeals to the growing number of mass market visitors to the city.
Chan's comments on the progress of Macau's most important industry sector were delivered during his Keynote Speech at MGS Summit this week, with the DICJ Director also expressing confidence that mass gaming will lead a recovery following a gradual slowdown in gross gaming revenues throughout 2019.
"The mass market segment is  starting to perform better [than VIP] which means it is becoming more stable," he said. "We feel this provides good reason to feel optimistic about future prospects." According to Chan, whose tenure as DICJ head was last week extended by a year to December  2020, one of the key initiatives of his department in the short-term will be upping the fight against illegal gambling operations while promoting responsible gambling in Macau's casinos.
"We have slowed down the development of gaming to ensure that we can promote responsible gaming," Chan said during his speech, expressing the will to create "a comfortable environment for tourists."
Macau's GGR is down 1.8% through the first 10 months of 2019.